KHAN KHENTII HORSE RIDING TOUR
By participating in this tour you will have a direct experience of the horse culture, which built the world's largest land empire under Chinggis Khaan, and a chance to discover the most remote and beautiful areas of the Khentii mountain range. Deep in the forested valleys, you will discover the hidden jewel of the area – Khagiin Khar or the Black lake, truly wild and remote. Bears, wolves, red deer, moose, and other wild animals are the only inhabitants of this strictly protected area.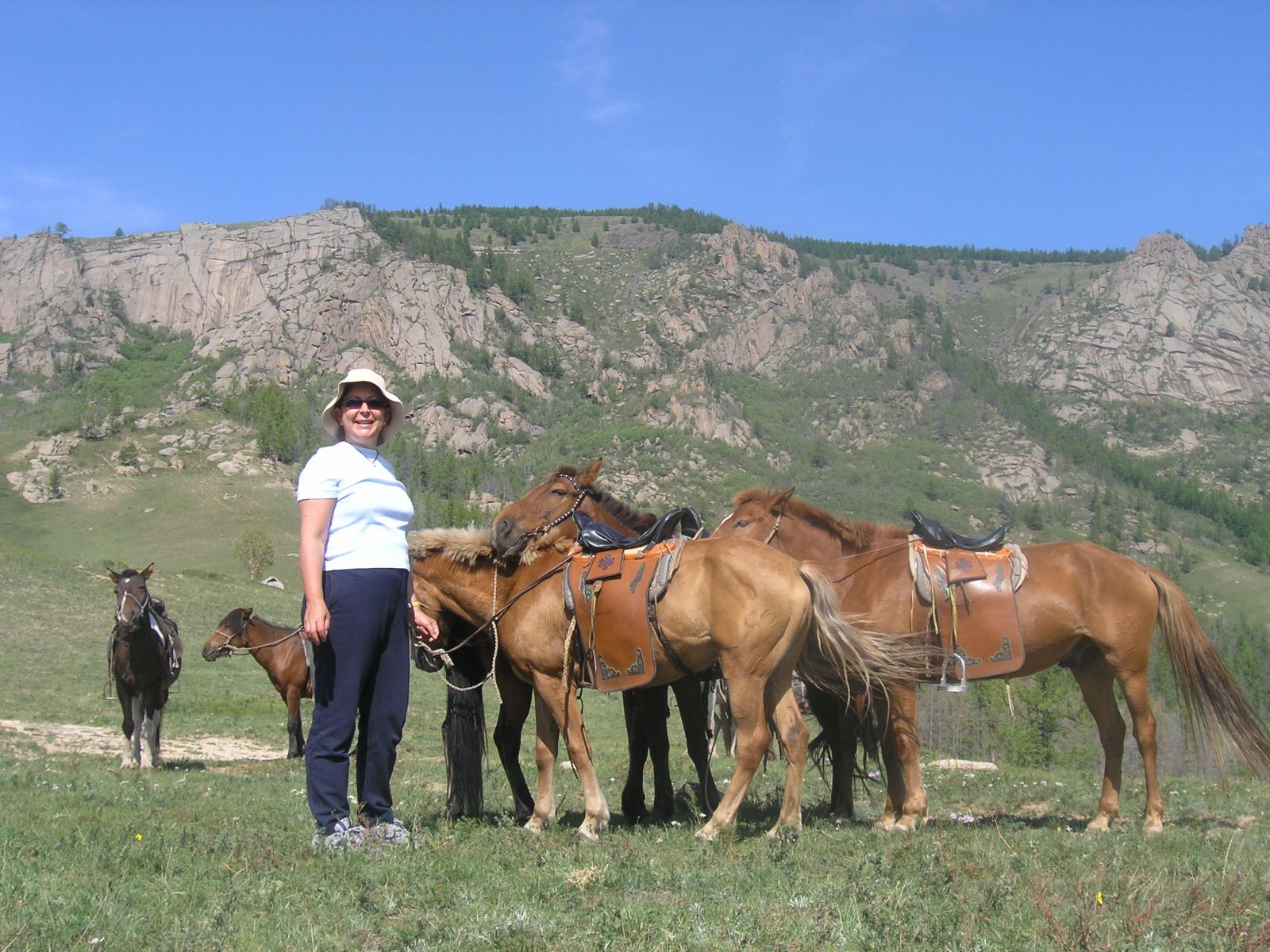 Length: 9 days / 8nights
Tour grade: Active- demanding
Group size: 2-15people
Potential period: June-September
Highlights: Terelj National Park, beautiful mountain rivers – Tuul, Terelj, Hagiin gol, and Hagiin Har Nuur, the Black Pearl of Hentii Range, fishing and swimming at the lake, other smaller lakes, the chance to confront wildlife and numerous birds.
---

Day 1. Ulaanbaatar city tour
After arriving in Ulaanbaatar you will have a half-day city tour with an excursion to Sukhbaatar square and Zaisan memorial hill and visits to some of the fine museums in the city (the choice of museums is subject to your preferences), which will be followed by dinner in a local restaurant.
Accommodation: Hotel
Meals: B/L/D
Transport: 4WD van/bus
---
Day 2. Terelj National Park
Transfer to Terelj National Park. Upon arrival at Terelj Lodge, you will be given time to settle into your ger and freshen up prior to a short 30-minute lecture about traditional Mongolian nomadic life. Special attention will be paid to the different saddles and bridles so unique to Mongol horse-riding culture and history. Following lunch, clients will be given a demonstration and training class for the traditional Mongolian sport of archery. Trails and competitions will be held. Then you will meet your, horsemen. Overnight in ger camp.
Accommodation: ger camp:
Meals: B/L/D
Transport: 4WD van/bus
---
Day 3. The confluence of the Terelj and Tuul rivers
After breakfast, the riders are matched to their horses, saddles selected and the horse tour begins. Today we are riding along the picturesque valley of Terelj National Park heading east to Khan Hentii Strictly Protected Area. After riding for three hours and crossing the Terelj River you will arrive at Dugana Tsagaan steppe, where you will be served a picnic lunch. After another three hours of the ride in the afternoon, we are arriving at the confluence of Tuul and Terelj rivers. This beautiful area is our campsite for the night.
Accommodation: tented camp:
Meals: B/L/D
Transport: Horse
---
Day 4. Hagiin river
Today, as we follow the Tuul River, we enter dense pine forest, at the southern tip of Siberian Taiga. Throughout the three-and-a-half hour ride, we will see Golden eagles, woodpeckers, and other birds. We will arrive at the confluence of the Tuul and Hagiin rivers, where we will camp for the night.

Accommodation: tented camp:
Meals: B/L/D
Transport: horse
---
Day 5: Arrive at beautiful Hagiin Har Nuur Lake
Leaving the Tuul valley behind us, we will enter tundra forests. After an hour of riding, we start to ascend a mountain through a deep forest noted for its abundance of wolves, bears, deer, roebuck, and moose. Reaching its top, we overlook and descend to the breathtaking Black Lake. We will set up camp on the yellow sandy beach of the Lake.
Accommodation: tented camp:
Meals: B/L/D
Transport: Horse
---
Day 6. Khongoriin river valley
After leisure breakfast, we will ride through the Khongoriin River valley. Riding down the stream for four hours, we will ford the river. After a couple more hours, we will come across a mountainous forest of birch, pine, and age-old cedar. We will spend the night camping in the forest, close to a stream.
Accommodation: tented camp:
Meals: B/L/D
Transport: horse
---
Day 7. Altan Ulgii peak
We will make a steep ascent, and an even steeper descent across the Khaviragiin Pass, which lies at the eastern shoulder of Altan Olgii peak. Translated as 'Golden Cradle,' this 2646m mountain is one of the highest peaks of the Hentii range. We will continue riding towards Terelj through the Dund Bayan Gol valley. As before, luggage, food, and equipment will be carried by packhorses. Towards the end of the day, we will meet up with the support vehicles, and set up camp for the night.

Accommodation: tented camp:
Meals: B/L/D
Transport: horse
---
Day 8. Terelj Lodge
After breakfast continues horse riding till the Tuul River where drivers pick up. Transfer to Ulaanbaatar.
Meals: B/L/D
Transport: 4WD van/bus
---
Day 9. Departure
In the morning, you will visit Gandan, the largest functioning monastery in the country, and there will be time for shopping before lunch. Then transfer to the airport for your international departure.
Meals: B/L/
Transport: 4WD van/bus